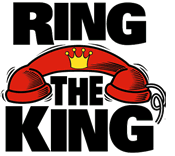 Our Crust
Pizza King's best kept secret and the success of every pizza we make fresh and delicious!! Our Cheese
One of the most important ingredients is Pizza King's fresh provolone cheese for a richer taste and creamier consistency you won't find in mozzarella. Our Toppings
Pizza King has a list of toppings to please the taste of everyone prepared in a style all our own our ingredients diced and evenly distributed for more consistent flavor. Our Square Pieces
Why?....Simple! It provides easier eating and a better division of the pizza sized to fit every occasion.


Monday
1 Taco...$1.79
3 Tacos...$4.49
1 Burrito...$3.29
Tuesday
Spaghetti Dinner...$6.99
Baked Spaghetti Dinner...$7.99
Wednesday
14" or 16" Pizza...$2.00 off
Thursday
8" Pizza One Item Only...$5.99
Friday
Taco Salad...$5.99
Saturday & Sunday
Buy 16" Pizza and get a 10" 1 Topping Pizza for $6.99